Beard Hair Transplant
Beard Hair Transplant for Men at Dr. Kalia's NOVENA CLINIC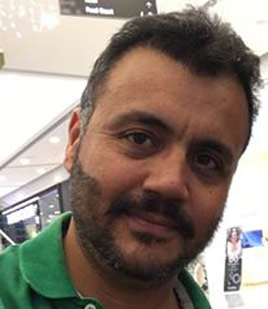 With the increasing rage for fully-grown dense beard amongst men, FUE Beard Transplants are the commonest of the methods to increase the density and fullness of their beards. If you too want dense, healthy beard and have meagre facial hair, patchiness or any facial scars, a beard transplant or a facial hair transplant, may be the only permanent solution for you.
Dr. Kalia's experience in facial hair transplant for men has earned him accolades. That is the reason why many celebrities across India have trusted him for hair transplant on the face, which is highly critical and the results totally depend on the doctor's skill sets. Just as beard hair transplant, Dr. Kalia is also the most sought after hair transplant surgeon in Chandigarh for -
Goatee Beard Transplant
Moustache Hair Transplant
Eyebrow Hair Transplantt
Sideburn Hair Transplant
Dr. Kalia uses very successful and minimally invasive FUE technique to transplant facial hair and he has specialized in treating patients from all backgrounds. Facial hair transplant is a creative surgery and it should only be performed by experienced, specialized surgeons like Dr. Kalia for great outcomes.
Dr. Kalia has the right technique and tools to perform beard transplant. The procedure at Dr. Kalia's clinic is performed with special care in order to achieve the most natural beard appearances. Due to so many years of experience in beard hair transplant, the surgeon at the clinic have yielded many successful results for the patients. The beard transplantation at Dr. Kalia's NOVENA CLINIC is performed with advanced FUE technique.

Why Would Someone Need Mustache-Beard Hair Transplant Surgery?
To hide scars of any trauma, surgeries or burn marks
Someone who suffered from traction alopecia and loss of hair
Due to medical reasons such cancer or infections
Long standing conditions such as alopecia areata
Scarring caused by conditions such as folliculitis
Loss of hair, due to failed hair transplant surgery
How Beard Hair Transplant is Done?
The procedure is done under the influence of local anesthesia that takes about 2 to 8 hours depending on the area and number of grafts to be implanted. The procedure is similar to FUE technique, where the donor hair are taken from back of the scalp. During the procedure, the roots are extracted by FUE punches and then implanted in the beard region. Single or double hair containing grafts are punched to give natural-looking beard. It will take around 4 to 6 months for the transplanted hair to continue to grow like natural facial hair. There are no risk or side effects of the procedure. Use of special implanters ensure that there are no marks or scar on the face are visible after the procedure.
What Makes Men Go For Beard Hair Transplant Surgery?
For men, beard hair transplant surgery offers various advantages, such as -
It is a safe and permanent procedure that gives natural result
It leaves no scar or marks on the beard/face
It is a one-time procedure and it does not need strict maintenance or medication
The beard hair can be shaved, trimmed and styled as per the need
Beard hair transplant surgery can also be used to hide scars or birth marks
It is a minimal invasive procedure and have no side effects
Who is an Ideal Candidate for Mustache and Beard Transplant?
Any men who lacks proper hair growth on the face in areas of beards or mustache caused due to genetic disorders, previous laser hair removal, surgery, burns or injury can go for mustache and beard transplant.
Total Graft Needed for Beard and Mustache Transplant
The average number of grafts required for beard and mustache transplant needed is 500-800 grafts for the mustache, 600-1200 grafts for a full goatee, 200-350 grafts for each sideburns, and 1000-2000 grafts for a cheek beard.
How much is the Cost of Beard Hair Transplant?
The cost varies according to the individual needs and total number of grafts required. To know the exact cost for your mustache and beard hair transplant, it is best to consult the surgeon in order to assess your needs. You can mail us at drdeepakkalia@gmail.com or call to book an appointment at +91-81462-66227.