Pre Operation Instructions
Pre-transplant Care
It is critical to prepare yourself for a flawless hair transplant surgery. That is the reason why Dr. Kalia has made his set of pre-operative hair transplant instructions public. No matter where you go for hair transplant, it is important that you follow the given instructions most diligently:
On the day of your surgery, take a shower and wash your hair thoroughly with a normal shampoo
Do not use any kind of hairsprays, serums, conditioners or any other hair product
Have a good, nutritious and healthy breakfast
If at all you smoke, it is highly recommended not to smoke for 24 hours prior to the surgery
If you drink, do not intake any alcohol for 24 hours prior to the surgery
Do not wear tight necked apparels that are difficult to pull over the head, a buttoned shirt or a zipper is most recommended

Have the following Medication according to the prescribed schedule (do not miss put on checking allergies):
Tab Augmentin Duo (Antibiotic): Thrice in a day for 3 days post-surgery
Tab Combiflam (Pain Killer): Thrice in a day for 3 days post-surgery
Tab Prednisolone (10 mg, Swelling Reducing Drug): Three times in a day for two days, Two times in a day for next two days, Once in a day for next two days
*This treatment is purely prescribed to prvent forehead oedema.
*Remember that you normally do not have to take this medicine if the surgery only affects the vertex.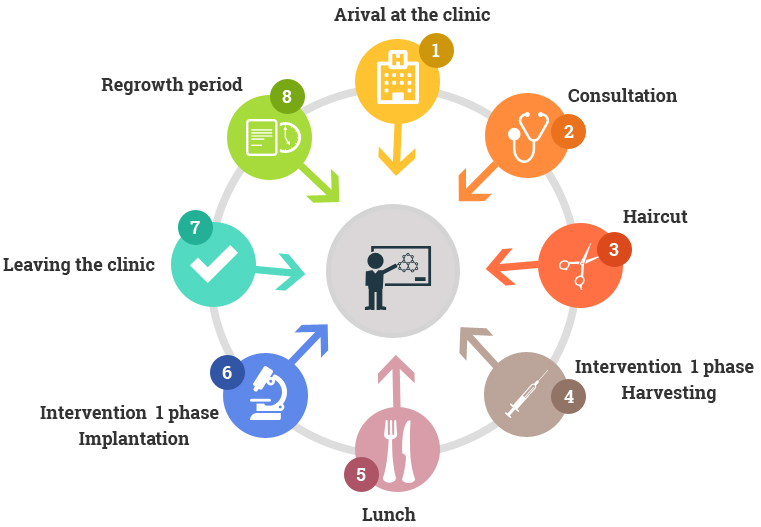 Blood Analysis
It is highly important to have a blood analysis test done (for Hepatitis B, C and HIV). Ideally, Dr. Kalia recommends and requests to receive the test reports at least 2 days before the surgery – in hard or soft copy according to your convenience.
Other points to note:
Keep the copy of Post-transplant care handy with you carefully, which you would receive duly on the day of surgery
As the first few hours of the surgery are most crucial, you should not be touching the transplanted grafts at all
A visit on the next day of the surgery is highly recommended
Stop taking multi-vitamins, vitamins B or E from one week before your surgery, as they augment bleeding
Stop taking aspirin, any other anti-inflammatory or herbal medication from one week before the surgery
Stop using Minoxidil two weeks prior to surgery
If you take antidepressant, anticoagulant or beta blocker, please inform the doctor well in advance
You absolutely do not have to worry, as Dr. Kalia takes good care of just everything and sends automatic telephonic, mail or calendar alarms as reminders for every essential step.
All the best for your surgery!
You are almost there to meet your new self.